First and foremost: this was a good run. I wasn't dead at the end, and could definitely have made it to the full 15K if I had wanted to.
That being said, the first 3 mi hurt. I don't just mean that figuratively—I'm being quite literal. My shins, calves, and ankles throbbed and spiked the entire first 30 minutes. Yes, yes, I do know why: I've severely overtrained this week. With 4½ mi on Thursday, then another 3¼ mi on Friday, I should not have run 8½ mi on Saturday. I knew from the very first step—again, literally—that I should have taken the day off.
But, alas, I have training goals. I refuse to be caught behind the eight ball in March for the big day.
And, as I said to begin with, it ended up being a good run. My legs did eventually stop hurting, and I was able to settle into a good rhythm. Unlike some of my other longer runs, the time really flew by on this one. I was pleasantly surprised to hear my time and pace at the half-way point. I was expecting a running pace more on the 10:50–11:00 side, so 10:35 is wicked cool.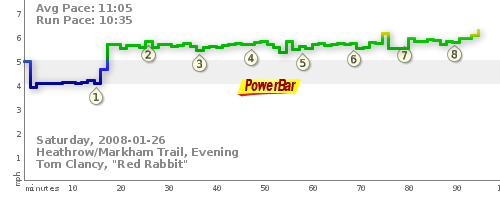 And yeah, I really need to stick another flavor of PowerBar gel in my gym bag. That strawberry-banana is awful. I'm lucky I have a water fountain 2.5 mi from my finish point.