Last year I gave cycling a try. I mostly enjoyed it and worked my way up to 2-hour, 20-mile rides. Ultimately, however, it didn't really agree with me as a long-term fitness solution. This year, thanks to my wife, I'm giving running (another) try. For my own future history, this post is meant to record the results of the first week of running.
I made three runs this week: a 5K, a 4-miler, and a 5-miler. Yes, I know you aren't supposed to increase your distance by more than 10% per week, but I'm trying to set a baseline here.
It seems that my comfortable walking and warm-up pace is 3.0-3.5 mph, and after 4.0 mph I have to start jogging or my calves let me know how unhappy they are. A slow jog is 5.0 mph, while a comfortable or natural jog is about 5.5 mph. As I learned tonight, I can sustain 6.1 mph for a while, given the right music and zen state. A flat-out dead run is about 10.0 to 11.0 mph, which I can sustain for about 60-90 seconds.
Warming up is best done in 0.5 mph increments from 3.0 to 3.5 to 4.0, then 5.0 to 5.5, with no less than 0.15 mi between each speed. If I take it down to an even 0.1 mi per speed, I don't reach a mile before I am in too much pain and too winded to continue jogging. My calves are the limiting factor in my warm-ups. They take about 0.75 mi before I feel like I can jog without fear of pain or injury, but then no less than 3.0 mi before they truly feel stretched out.
Here are the speed/time/distance charts for my first three runs: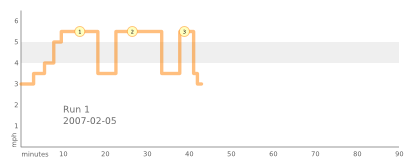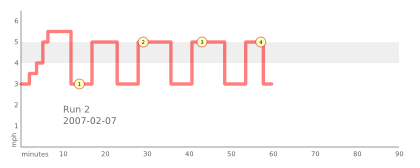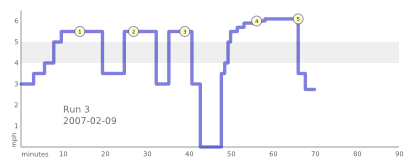 I believe the second run was worse than the first due to my attempt to decrease my warm-up time. You can see that the third run returned to the higher speeds and longer runs. The drop in the third run was due to me taking a brief break to swap out the school lecture I was listening to for some real running music. Namely, DJ Steveboy's PodRunner mixes. The success in the third run came courtesy of the 163bpm Body Language mix, which worked out to between 6.0 and 6.1 mph for me.
I still don't feel that I've set an accurate baseline, as I have not yet come away from a run with any sort of lasting aches or pains. I'd like to try to continue to increase by 1.0 mi per run until it feels too long, then step back and go from there. This week's best speed was 6.1 mph for about 0.8 mi. I think a mid-term goal would be to be able to sustain 6.0 to 6.25 mph for 5K. That would be about a 30-minute 5K. I'm also curious to see if I can increase the length of my flat-out run — preferably to 3 minutes.